In my next set of reviews of sets I recently purchased, we have two new Lego City fire sets in 60002 and 60003. Anyone who has known me since my childhood realizes that I've been a big Lego fire nut. My second major set in my life was Engine Company No 1, which set off my passion and lifelong hobby. While I have become somewhat delinquent in keeping up with most of the insane output from Lego, I've pretty much made it a personal mission to collect most of the fire sets, especially if they're good ones.
Let's start off by looking at Lego 60002, the Fire Truck. In some ways, this set resembles the larger fire engine from older sets 6385 and 6366, namely in what I call the "bus window" for the front. It's got a very boxy-shaped structure, but with a surprising amount of details both in the form of a fair number of decals and tools for the fire fighters.
The rear section allows you to store all the different implements the fire fighters use for their jobs while a double sided compartment which you flip contains a tiny box for an oxygen mask and nozzle you can attach to the fire hose. The nozzle has a blue flame, which in this context means spraying water. I thought that was an interesting little use of the flame piece. The front section of the truck actually allows you to fit both fire fighters inside the truck. The last little part is a fire hydrant where a hose can connect to the tiny gray piece stick near the left side. The hydrant itself has a small gray platform that you can use to add to a side walk.
Next, we come to 60003, the Fire Emergency. This set also has a hook and ladder type of vehicle, albeit slight smaller with less tools. But you also get a burning building, which I thought was an interesting original touch from Lego. Historically, most Fire sets pretty much just include the vehicles and a fire house. This is the first set, to my recollection, that has a building that's on fire. That aspect drew me to the set as it added a new element to my town series.
The building itself is just a prop. Beyond the flames and a bucket with a sweeper, there's not much else to this building on the interior. With the boards on the outside, it appears to be an abandoned store perhaps that managed to catch fire. I'm kinda sad in that respect because I'd like to see more detail for these prop sets. It feels like the older movie sets minus the super hero like Spiderman. But hey I'll take what I can get.
One interesting thing is that the set does include three fire fighters, one of which is female (I use her as my driver). Considering that the truck is just a one seater, it makes you wonder just how the other two arrived. Yes, I'm being a bit critical but I'm going to lead to something in a bit.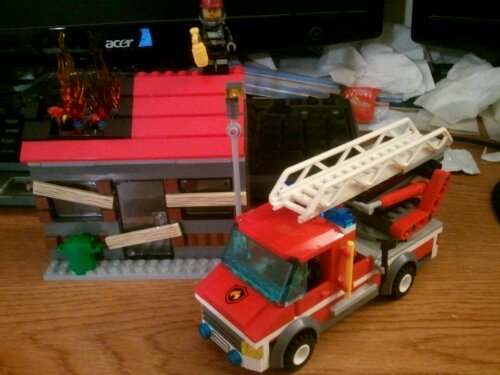 Overall, I think these two sets are worthy additions to your fire collection. There is some uniqueness worth picking these up, especially for die hard Lego fire fans.
Now, onto my criticism of these sets. I alluded to earlier how 60003 provides three mini figures while the truck only has room for one. Now, in comparison to 60002, I found this detail a little disturbing. The trend in the past decade has been to make larger and larger vehicles. You still have slimmer vehicles, but the inconsistent scale between these two drives me nuts. I think some of the construction vehicles were by far the most guilty, having outrageous scale like the dump truck or the crane.
But why be so mad at this aspect? Doesn't having larger vehicles imply more detail? Yes and no. I feel that a lot of the detail that goes into newer sets is pretty artificial. Most of it is just excess decals. I find the abundance of decals in sets these days to really take away the experience of a set. Not to mention, the problem that decals can slowly erode or wipe off over time.
My main issue all these years is simply the incompatibility between older sets and current sets. Scale has always been an issue with Lego but it's easy to ignore considering it's a toy. But I feel that, at least with town, scale should be more consistent overall. It simply looks weird and awkward having these variable sizes in a town. And where do you put some of these ridiculously huge vehicles like the crane or dump truck?
Part of it feels that Lego simply wants to charge more for the packaging than on the actual quality of the set. Having larger vehicles only marginally increases the parts count. But the box sizes are pretty ridiculous for what you get along with the price. I would be far more inclined spending money on greater quantities of sets as opposed to being picky about which sets I can afford both monetarily and in space.
Now, I never want to see the concept of Town Jr ever again. That was horrible (despite me buying into it). But at the same time, I doubt Lego will regress to the 80s where scale, quantity and price felt more reasonable. However, it is a direction I would like to see.