Lego 4207 is actually an older set from 2012 that I just picked up. I hadn't made a major Lego purchase in a while but I knew that I absolutely had to own this set. Essentially, the City Garage is a remake of the only other city garage type of system back from 1988 known as the Metro Park. Because of the scarcity of that type of set and the scale that Lego was able to reproduce it, this set becomes a must have for any hardcore City Lego collector.
At 933 pieces, this set is another epic level creation. You get an amazing four vehicles and fully operational elevator for your cars to traverse up and down this multilevel structure. It might seem slightly empty when you look at it from the outside, but don't let appearances fool you. This set has a great deal of elements and is quite a blast to put together.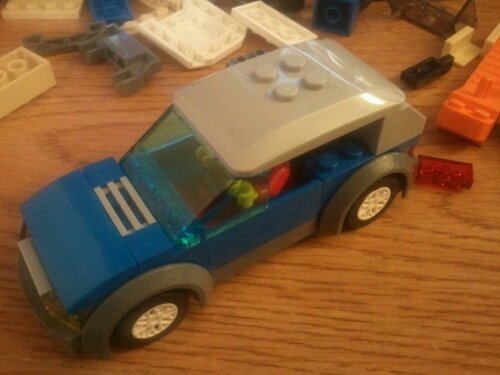 The first car you get to build reminds me of a mini cooper. You get a female occupant as the driver. It's got a sleek feeling and differs slightly from the other yellow car included in this package.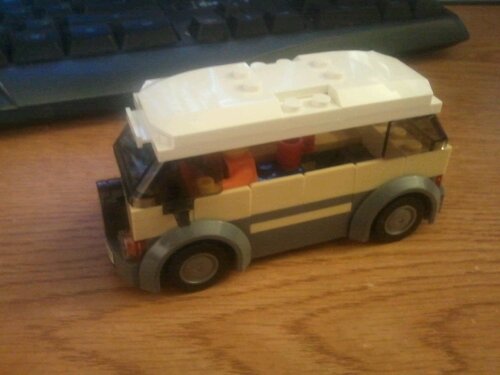 This van is quite a set in itself. Rarely, do you get to see plain vans so this vehicle is a nice addition to the Lego city universe. It reminds me of a scaled down Volkswagen Van that was sold. While there's only a single driver, inside you can see room for another occupant. There's a small cup inside behind the driver's seat, which is a nice touch. Also, the hub caps are a neat little touch.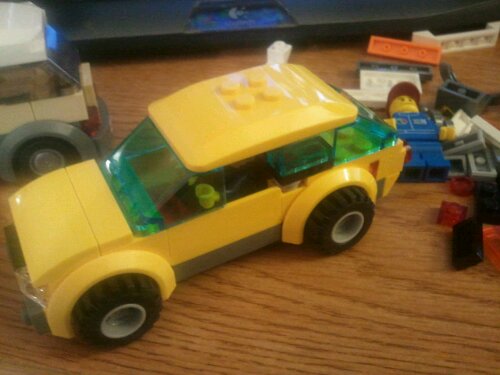 The next pair of vehicles are another wagon type of car and tow truck. The wagon is notable for the driver who reminds me of an ex-coworker, except that he's dressed in a suit. Behind his seat, you can place his suit case.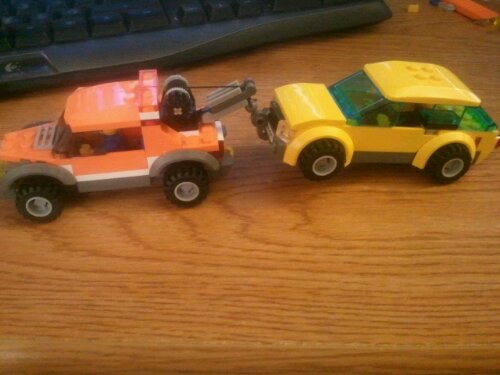 The tow truck is an interesting vehicle included in this set. I say interesting in that it's an odd choice to a degree. There is a small repair shop on the 2nd floor of the garage. You can see at the end of the instruction manual though that some where down the line, the little yellow wagon has some issues and requires the aid of the tow truck.
From there, I decided to photograph each of the major sections as I assembled it. The first section of the building is a gated entrance to the structure. It's pretty cool in that you have a system that looks to operate like a toll booth at your parking garage. You get a ramp that leads to the elevator once the elevator is at ground level. Also, as part of this section, you get your fuel pump. The fuel pump is detached from the main set. In some ways, I wish that it was part of the structure but there's no room within the set to place it.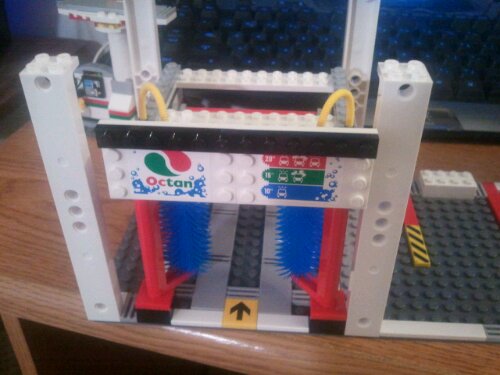 The other bottom section is a car wash. I think the older Metro Park also had a car wash, but this one is slightly updated in that it contains the little brush-like pieces and techniques used to cleanse your vehicles.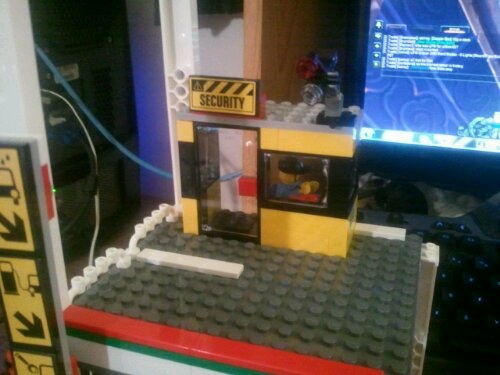 The next area you get to build is the security office. This was a nice touch to the set where you get a middle aged (probably underpaid) guard who uses his surveillance camera to monitor the second level. Also, on this level you get to see the first little parking spot for your vehicles. Altogether, the set has six spots available for average sized cars, not including the space on the ramp and elevator.
On the opposite side of the security office on the second floor is a make shift repair section. There's not a lot to this area except some tools for the guy running the tow truck. I thought that was a bizarre element to add to this set, but it does add a little more color/depth to the set beyond just boring, empty parking spaces.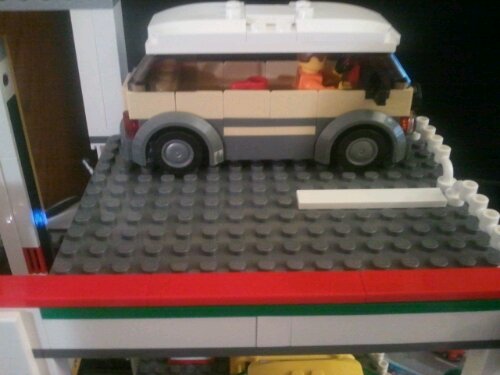 Next you come to the third floor, which pretty much are duplicates on both sides. Here, you have four spaces, two on each side with the elevator gadget in the middle.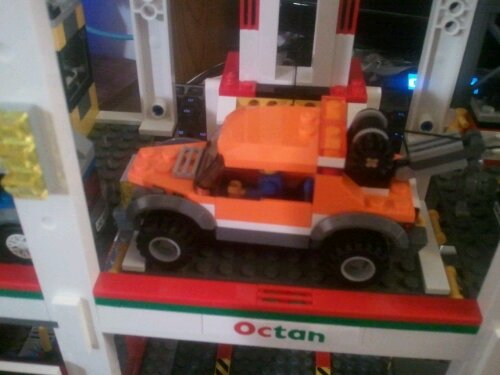 The elevator aspect is pretty cool in that it uses a pulley mechanism to lower and raise vehicles to each floor. It's quite sturdy and probably can hold more than the vehicles supplied in this set as long as they can fit on the elevator platform. A small gear on the side allows you to operate the pulley. And of course, we get the standard Octan symbol advertising the garage.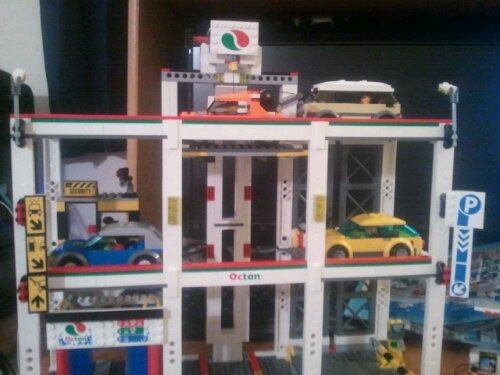 Ultimately, this set is such a wonderful set. It has a tremendous amount of detail with all the stickers enhancing what could've been a far more bland structure and making it seem lively. It has a very sturdy feel to it and despite the seemingly thin beams providing most of the vertical structure, it feels strong with small 3×1 smooth tiles reinforcing these beams vertically.
Although the set can serve as a car wash, gas station and repair shop, the main feature as the city's monolithic garage really adds a great deal of flavor to the Lego world. Given any of your spare pedestrian vehicles, you could make this set feel even fuller by occupying each of the free spaces. At $129, this set can be daunting for most people. I personally would love to have multiple of these if I had both the money and space because of the sheer usefulness from a set like this. Every town needs a garage like this so if you missed out on the older Metro Park set, don't miss out on this one.
(Visited 361 times, 1 visits today)
Comments
comments